Fresh Oudon Noodles at Oudon Restaurant Bonifacio Global City
Monday, November 09, 2015
I'm always excited when I get invited to foodie meetups by Zomato. I've been a food reviewer for Zomato since last year, and up till now, I can say that there's still a spark that makes my tummy flutters whenever I get invited.
Our Foodie Meetup location is at
Oudon Restaurant
. As the name implies, Oudon Restaurant specializes in dishes that utilizes oudon noodles. They even have a lot of variety of oudon dishes ranging from hot or cold dishes.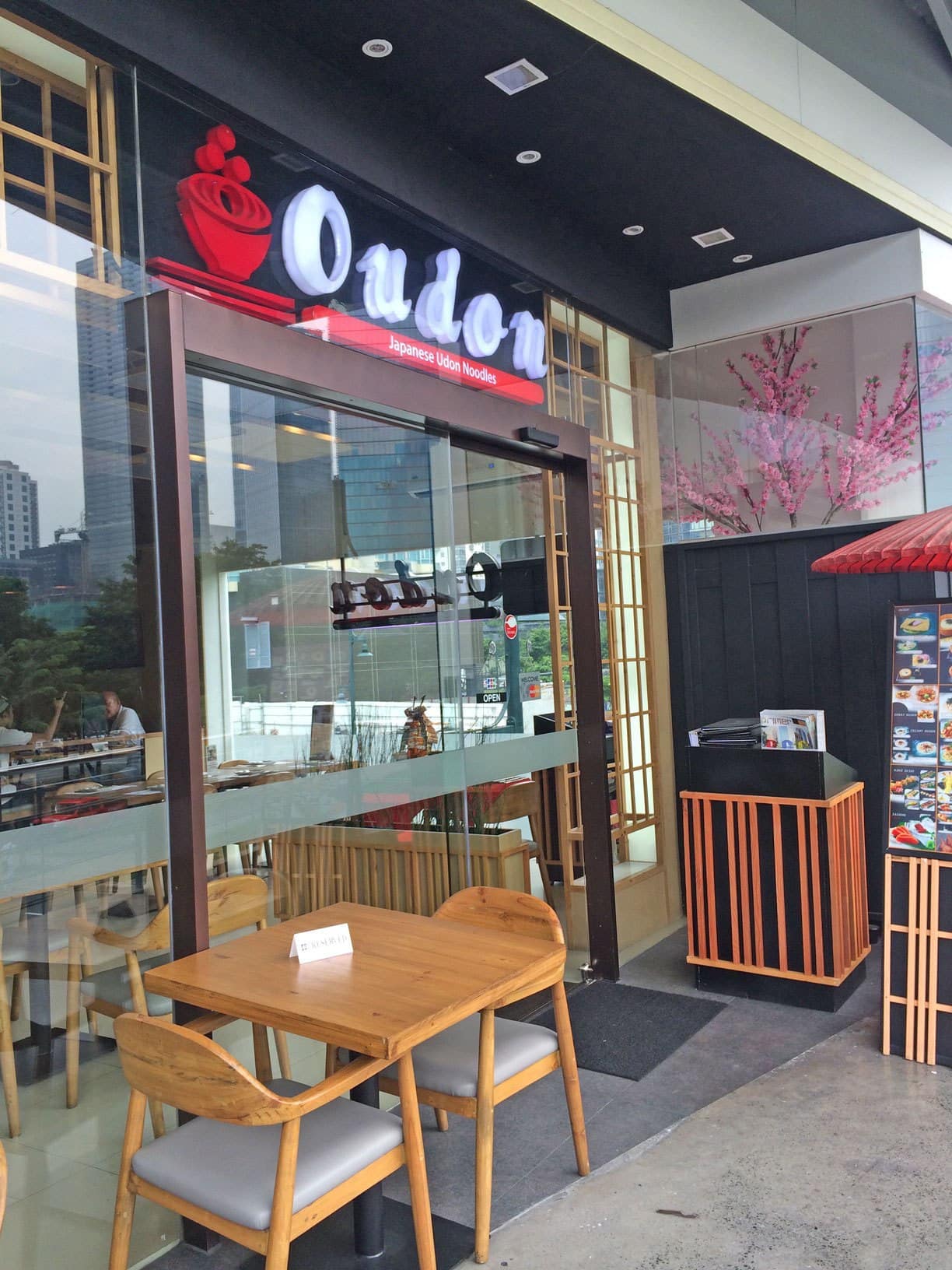 Oudon has that traditional Japanese restaurant interior that will make you and your tummy quite comfortable. Oudon also serves traditional Japanese dishes aside from their typical oudon dishes. For starters, here are some good appetizers we have tried:
Iko Daikon (Php270()
Satsumo Age (Php280)
This is the most interesting dish I tasted that night. It's like fishcakes but without the fishy taste. When we asked it is a combination of seafood creatures combined into this tasty dish. Yum!
Teba Gyoza (Php290)
Yes, your eyes are not fooling you. This dish IS a gyoza. The filling is stuffed inside the chicken wings which is real crafty and definitely delish.
Tempura Moriawase (Php380)
Tori Karaage (Php280)
Tuna Sashimi (Php290)
Salmon Sashimi (Php290)
And for the highlight of the night, we get to choose what oudon dish we can order. I wanted to try Wagyu Oudon set, but unfortunately, they ran out of wagyu. I wanted a warm soup but everyone already ordered the Nebayaki Oudon, which is my second pick.
Nebayako Oudon (Php430)
For the sake of variety, I tried the Cold Tenzaru Oudon set. The Oudon set came with Shrimp, eggplant and sweet potato tempura and a cup of fried rice. The cold noodles are actually tasty. I was almost sipping the cold soup directly from the bowl. I munched on the tempura while sipping the cold noodle soup.
What the whole set consisted of
Oudon Noodles nesting in shaved ice
And for dessert, we had the traditional Japanese desserts, Matcha Ice cream and Ahoro Mochi.
Matcha Ice Cream (Php120)
Ahoro Mochi (Php160)
The prices may appear expensive, but once your food arrives, you'll be amazed how they present your set order. One set can almost fill up half of the table, that's how literally big their sets are. I guess it justifies why their prices, on first glance is that high.
But just a slight warning, if you are a noodle lover, at first glance, you'll find that the noodle serving is a bit lacking. But actually when you eat it, you won't even notice that half of the serving is enough to make your stomach full. The oudon noodles are very thick and filling. Almost all of us were full up to the brim just finishing their set.
One good thing also, their sets are for unlimited oudon noodles. Meaning, you can stuff your mouth with as much oudon noodles as you like! (Good luck with that) So if you consider all of that, 400++ a meal is quite competitive in comparison with other Japanese restaurants.
If you'll ask me, honestly I prefer soba noodles as compared to oudon. Maybe because I hate that I get so filled easily and oudon has less starchiness in it. But otherwise, freshly made noodles are really my weakness. Go visit Oudon Restaurant and enjoy a hot bowl of Oudon noodle, it would be perfect this cold holiday weather.
How do you like your Oudon Noodles?
Oudon Restaurant
2nd Flr. The Forum
7th Ave cor Federacion Drive
Bonifacio Global Ciy, Taguig
Like their
Facebook page